Figure 1. Uhlein Hall Stage with Organ
The three classic concert halls acknowledge by most concert-hall acoustical advisors as the World's finest, Amsterdam's Concertgebouw, Boston's Symphony Hall, and Vienna's Grossermusik vereinssaal, have fine pipe organs, well used both in performances with orchestra, chorus, and orchestra-and-chorus, and for solo organ recitals. However, in my opinion, too many modern halls, designed primarily for orchestral performances, lack pipe organs, using electronic organs as a substitute. The excuses usually given are that (1) the basic design, often "audience surrounding the performers," precludes an organ installation, and/or (2) important uses of the hall require a stage without an organ in place.
Milwaukee's-Uhlien Hall
The idea of an organ in an elevator, under the stage when not in use with the roof of its case part of the stage floor, was first proposed to the architects Caudell Rowlett Scott for Houston, Texas' Jones Hall. The idea was included in the basic design and structure of the building, but the designed space under the stage has so-far seen other uses. Architects Harry Weese and Associates realized the idea in Milwaukee's Uhlein Hall/ (Bolt Beranek and Newman were acoustical consultants for both Jones and Uhlein halls.) Figure 1 shows the organ in use, and Figure 2 a section view showing the organ in stored position.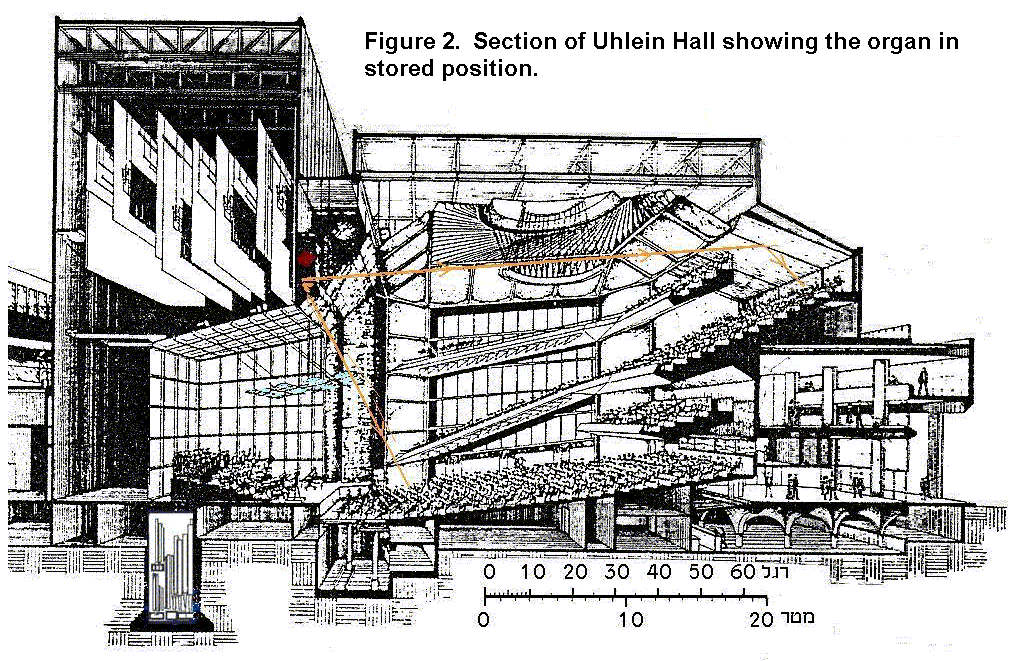 Tel Aviv's Mann Auditorium, Hehal HiTarbut

This is Israel's major concert hall, the home of the Israel Philharmonic Orchestra. Implementation of the concept used at Uhlein Hall in Milwaukee is possible; but the concept shown in Figure 3 shows a scheme possibly more appropriate for this hall. Heavy wood-faced doors would close the face of the organ when its presence in the hall is not wanted. .
Also shown is a reconfiguration of the existing ceiling suspended panels for both more even distribution of early sound from the stage and a higher ratio of reverberant-to-early sound throughout the hall. The wood egg-crates would not be retained. This in itself will improve the hall's bass response.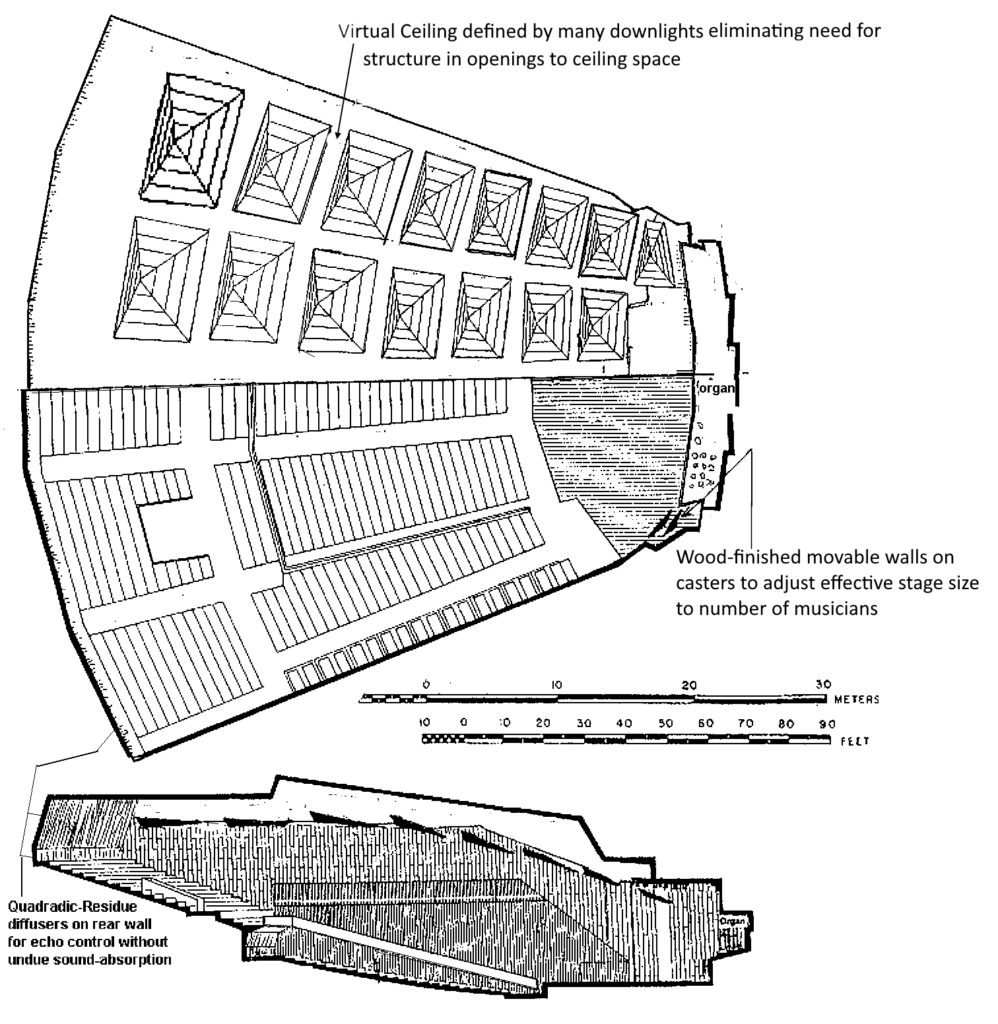 Figure 3. Organ installation at the Mann Auditorium and recommended changes
Jerusalem Congress Hall, Binyanai HaOomah
This is the Jerusalem Hall used by the Israel Philharmonic Orchestra for its Jerusalem concerts. Although used for a variety of functions, music was important in its design.1
.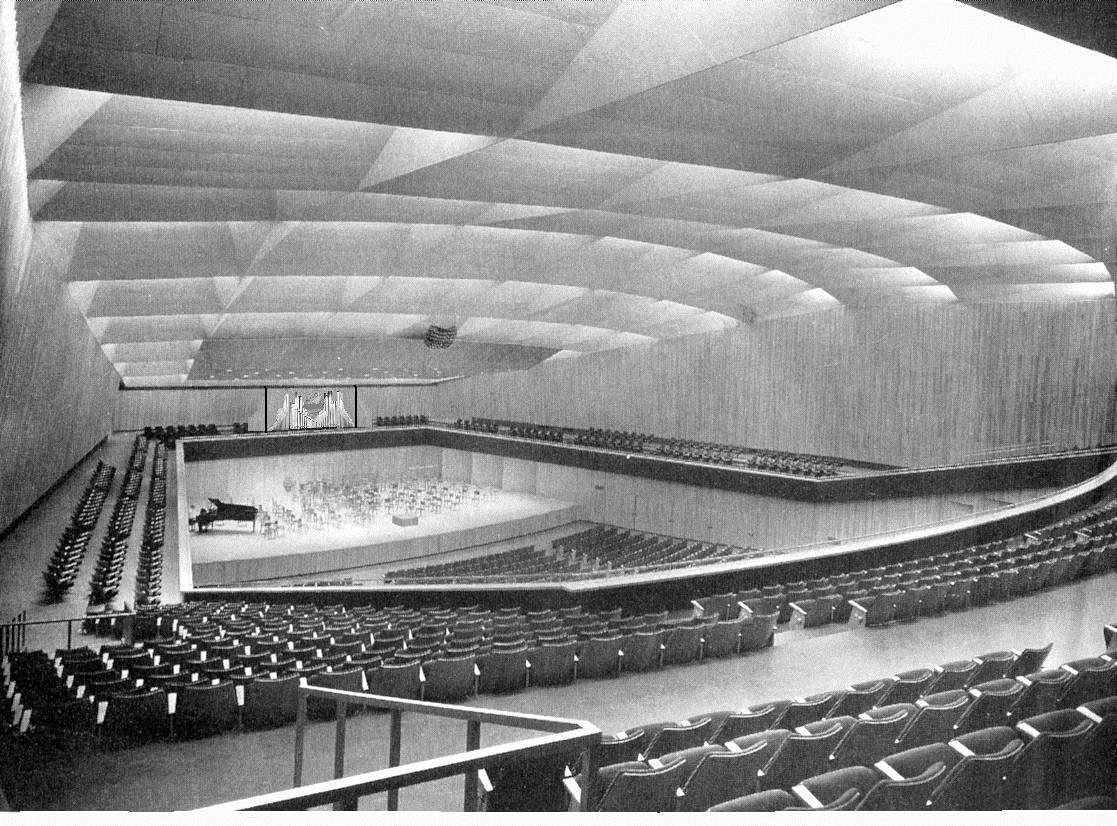 Figure 4. The Binyanae HaOomah organ in playing position
Figure 4 shows the organ in its position for use. Unlike Uhlein Hall (and possibly the Mann Auditorium as well), the roof of the elevator-organ-case will not serve as part of the stage floor, but must have seats as part of the hall's "surround-seating" concept. This requires the top of the organ case to be integral with the hall's ceiling when the organ is in position, and the seats above in the clear-space over the ceiling. Figure 5 shows the concept, which is applicable to many "surround" concert halls.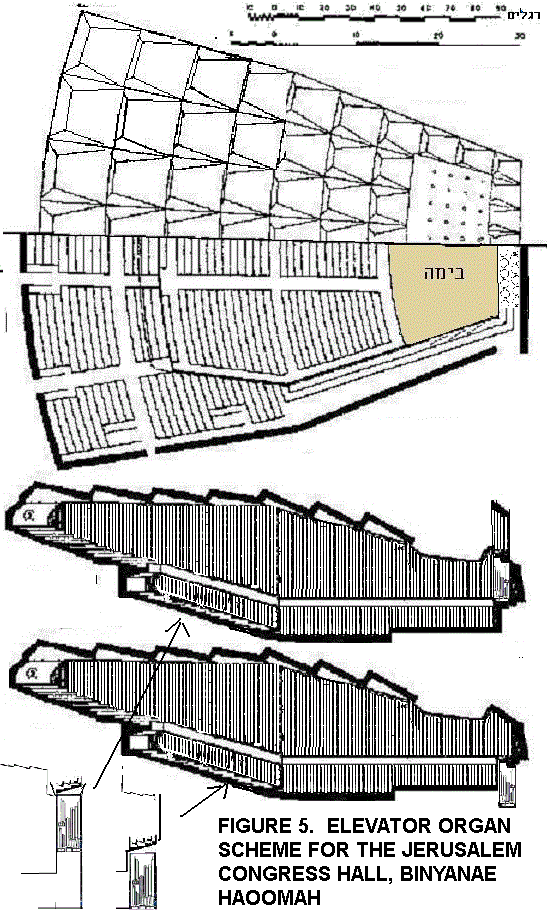 Commentary: Organ Music in Israel
Many citizens and other residents of Israel love classical music but have belief systems that discourage entering houses of worship with even a slightly different theological basis than their own. Because all organ concerts take place only in spaces used for Christian worship by specific denominations, the vast repertory of outstanding organ music by J. S. Bach and C. Frank, to name two great composers, goes unknown to many of these music-lovers. Jewish composers have also composed excellent organ music.2 Fine organs in concert halls are essential for a well-rounded Israeli musical culture.
David Geffen Hall – Blog Post added by David Klepper on August 21, 2023*
The tonal renovation of Lincoln Center's David Geffen Hall appears successful, and I've not read of any complaints regarding its state-of-the-art electronic organ. But a real organ could be a wonderful and practical addition. What makes it practical is the flexibility of the seating behind the orchestra (facing the conductor), which is actually located on a large elevator that can drop to the basement level. The space can also have all or some seats removed and be repositioned to provide an enlarged stage. Thus, a portable organ, on casters—with size in part determined by storage space, access, and the weight that the elevator can support—is possible. Since the organ would be compact and self-contained, with maximum flexibility required from the allowable ranks and stops, tracker action and wechselschleifen (April Cover Feature) seem appropriate. Having all divisions under expression, with laminated glass swell boxes and swell shades, would also be appropriate.
Dave Klepper
Jerusalem, Israel
*This blog post is part of a letter submitted to, and first printed in, the July 2023 issue of The American Organist, the monthly magazine of the American Guild of Organists.
Notes:
1 Beranek and Klepper, "The acoustics of the Binyanae HaOoma, Jerusalem Concert Hall," Journal of the Acoustical Society of America 33, p. 1690-1698, (1961)
2. Herman Berlinki's "Burning Bush" is in the repertory of many organ concert artists. Other composers include Haim Alexander, Paul ben-Haim, Ernest Bloch, Shlomo Dubonov. Yuval Rabin, and Karel Salomon. If I was ordered to limit my record collection to only five CDs, one that I would certainly keep would be "Organ Music from Israel." Yuval Rabin at the Martinskirk Organ, Olten, Switzerland, MDG (Germany) 606 1072-2, www.mdg.de
This CD, with music by all the composers mentioned except Berlinski, is out-of-print. Having received Yuval's permission, I'll be glad to attach by return email his beautiful Zmirot, variations on three Sabbath songs. ddaveklepper1@gmail.com
About the Author
David Lloyd Klepper is currently a student of Rabbinics at Yeshivat Beit Orot, Jerusalem, Israel, having moved to Israel in 1996 from his position as President of Klepper Marshall King, White Plains, NY, Acoustical Consultants, and as Adjunct Professor of Architectural Acoustics at City University, New York City. Before 1971 he was a senior consultant at Bolt Beranek and Newman, starting his consulting career there in May 1957. He received his SM and SB degrees in Electrical Engineering from MIT, and between times served as Assistant Audio-Radio Member of the PsyWar Board at Fort Bragg, NC, during the Korean conflict, leaving active duty as a 1st Lt. He provided acoustical advice for over 200 worship space buildings, including the National Presbyterian Church, Washington, DC, St. Thomas Church Fifth Avenue, New York City, the Capetown, South Africa, Anglican Cathedral, River Road Baptist Church, Richmond, Virginia, Young Israel of Southfield, Michigan, and Boston's Holy Cross Cathedral. In this capacity, he was a pioneer in application of digital delay and electronic simulation of reverberation in worship spaces, and pew-back speech reinforcement. Publications include 40 papers in professional journals, a coauthor with Professor Kleiner and Father Rendell Torris of the book Worship Space Acoustics, JRosspub.com., and Editor of the two Sound Reinforcement Anthologies of the Audio Engineering Society. He is a fellow of both the Acoustical Society of America and the Audio Engineering Society, past Emeritus Board Certified member of the Institute of Noise Control Engineering, and a member of both the American Guild of Organists and the Organ Historical Society. He also belongs to a number of railroad and public transit interest organizations. You may contact Klepper at ddaveklepper1@gmail.com.