Editor's Note
March 6th, 2015 was Dr. Per Vilhelm Bruel's 100th Birthday.  The Pro Audio Encyclopedia celebrates the occasion with this article by David Klepper.
A Book Review by David Klepper
This is a must read for anyone working in acoustics, whether architectural acoustics, community noise control, equipment and transportation noise and vibration control, sound reinforcement systems, home entertainment, recording, or whatever. Much of the important history of these fields can be found in this book, and not available elsewhere. For me, it compliments Sound Ideas, the history of Bolt Beranek and Newman, and Can You Hear Me? The late Martin Hirschorn's autobiography and history of Industrial Acoustics. Like these books, it is very well written.   Indeed, I planned to read through the book in a week, but found it to be as engrossing as a fine thriller novel and impossible to put down. In addition to anyone interested in acoustics, the book should be of interest to aviation fans, anyone interested in developing corporate educational programs, and the art or business management. In addition to the two major authors, the book includes autobiographical sketches of five individuals that were (and some still are) important to Bruel and Kjaer's products and business. The two major authors also had parts to play, and for Jack Mowrey, a major part for B&K's success in North America. Special mention must be made of Appendix B, where one reads the specific contributions of some 74 scientists, engineers, and businessmen who made Bruel and Kjaer great and advanced the science and art of acoustical and vibration measurements.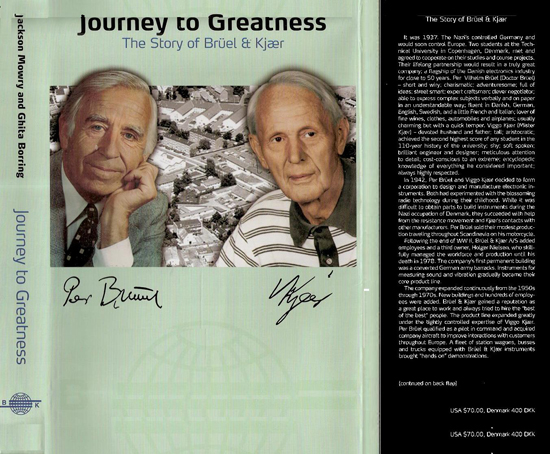 Altogether, one gets a fine sense of the management style of the years when Per Bruel and Viggo Kjaer ran the company, with the important third partner Holger Nielsen "who ran the daily operation." It was a management style was well suited to the the "Cold War" era, a management style that made both customers and employees happy, but which did not adapt to a temporary period of a rapidly shrinking market. This part of the story contains several lessons for business school students. But the two principles continued to provide useful help to a new management, and the kind of estrangement noted in Martin Hirschorn's book noted above was avoided.
In building a worldwide business, Bruel and Kjaer sold products to Communist countries, including both Russia and China, well before the "Thaw" appeared. Some insight into the situations facing western businessmen in working in these environments is available in this book. The visit of the Soviet Commerce Minister to Per Bruel's island summer cottage is particularly revealing and amusing.
The technology pioneered by Bruel and Kraer is thoroughly explained, but not all in one place. Some is found in the individual autobiographical sketches, and others as related to specific business developments. There are good photographs and diagrams. Altogether, my own impression from working in acoustics for over forty years in North America, Israel, and South Africa, that Bruel and Kjaer had a major role in the advancement of the science, a role possibly equaled but not surpassed by any other firm, worldwide, is confirmed by the facts presented in this book.
In addition to business and technological history, one gets to know many of the players as human beings, their hobbies, automobiles, their likes and dislikes, and even their faults. Per Bruel loved flying, starting with gliders and being the first Danish private pilot to obtain a multi-engine instrument rating. His aviation exploits and the development of B&K Airlines for company-related transportation should be of anyone interest in aviation,
The working environment described was familiar to me, because it was not much different than that at Bolt Beranek and Newman, when the three "name" partners ran the firm with the help of Sam Labate, who was BBN's analogy to B&K's Holger Nielsen. Brillliant engineers were hired, and then expected to find their own place in the total workforce. At B&K, one was confused and asked what he should do. The partner told him he might begin by sweeping the floor. The new hire objected with "But I was hired as an engineer!" The response was: "Then I will show you how to sweep the floor."   But possibly a better idea of the working environment was Viggo Kjaer's summary: "We should have fun." "We should make money." "But we shouldn't have so much fun that we don't make any money – or make so much money that we don't have any fun."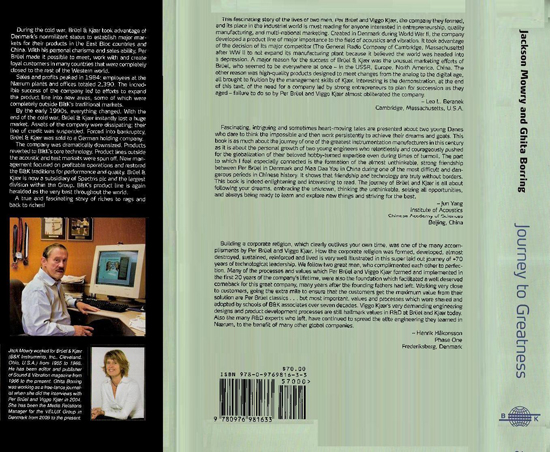 With such a terrific book, I still have a few complaints. First, on page 211, last sentence of the third paragraph, "instrument" should be "recording." Second, the second sentence at the top of page 109 raises a particular emphasis of the history of the area where I live that is in conflict with the recorded history as I understand it. Third, chapter 30 should not be titled "Epilogue." As clear from reading the chapter, B&K has thoroughly recovered its former glory, continues to be on the cutting edge of sound and vibration measurement technology, and is financially healthy. Major changes were adapting the very best business practices with flexibility in their application, outsourcing components when others can produce superior and more economical products, and concentrating on the internal strengths with strong two-way relationships with customers. The chapter should be renamed, possibly "Excellence Continued."
---
About the Author
David Lloyd Klepper is currently a student of Rabbinics at Yeshivat Beit Orot, Jerusalem, Israel, having moved to Israel in 1996 from his position as President of Klepper Marshall King, White Plains, NY, Acoustical Consultants, and as Adjunct Professor of Architectural Acoustics at City University, New York City. Before 1971 he was a senior consultant at Bolt Beranek and Newman, starting his consulting career there in May 1957. He received his SM and SB degrees in Electrical Engineering from MIT, and between times served as Assistant Audio-Radio Member of the PsyWar Board at Fort Bragg, NC, during the Korean conflict, leaving active duty as a 1st Lt. He provided acoustical advice for over 200 worship space buildings, including the National Presbyterian Church, Washington, DC, St. Thomas Church Fifth Avenue, New York City, the Capetown, South Africa, Anglican Cathedral, River Road Baptist Church, Richmond, Virginia, Young Israel of Southfield, Michigan, and Boston's Holy Cross Cathedral. In this capacity, he was a pioneer in application of digital delay and electronic simulation of reverberation in worship spaces, and pew-back speech reinforcement. Publications include 40 papers in professional journals, a coauthor with Professor Kleiner and Father Rendell Torris of the book Worship Space Acoustics, JRosspub.com., and Editor of the two Sound Reinforcement Anthologies of the Audio Engineering Society. He is a fellow of both the Acoustical Society of America and the Audio Engineering Society, past Emeritus Board Certified member of the Institute of Noise Control Engineering, and a member of both the American Guild of Organists and the Organ Historical Society. He also belongs to a number of railroad and public transit interest organizations. You may contact Klepper at ddaveklepper1@gmail.com.

---
Book Details
Journey to Greatness, the story of Bruel and Kjaer
By Jackson Mowrey and Ghitta Borring, published by Acoustical Publications, Inc, Bay Village,, OH 44140, Bay Village, Ohio, 2012, hard cover, 350 pages, black and white photographs and drawings, ISBN 978-0-976816-3-3
Amazon Link to purchase the book
---
Images
High-Resolution Image of the Front Cover
High-Resolution Image of the Rear Cover
---
Other Resources
Sound and Vibration Magazine published a biography of Dr. Bruel in its February, 2015 issue.